Mixing and matching furniture, primarily chairs and sofas, can leave many homeowners questioning whether or not they've made the right choice. While we encourage our clients to choose fabrics, textures, and designs that align with their personalities, creating a living space that flows is challenging.
Our team is always ready and willing to help clients develop a mix-and-match strategy that not only looks fantastic but feels right in their homes. If you're wondering how to mix and match chairs and sofas, you're in the right spot. This post will discuss the best ways to build guest-worthy spaces without sacrificing personal style, placing a focus on chairs and sofas.  
Developing a Pulled-Together Look with Sofas and Chairs 
Creating a pulled-together look with furniture that doesn't come in a set takes a bit of creativity. We see many clients who want their homes to feel like they match, but aren't interested in picking out a specific collection.
In general, these clients want their furniture to feel like it goes together without having been manufactured to go together. These situations are where the combination of colours, textures, shapes, and prints comes into play.  
 1. Embrace Individuality 
Knowing how to mix and match sofas and chairs could mean daring to be different. Neutral pieces, such as a creamy beige or pebble grey, can easily come together with accents like hot pink or lime green without creating an overwhelming or chaotic atmosphere.
You can apply this same idea to fun or funky patterns. For example, pairing your neutral sofa with a bright or patterned chair is the perfect way to show a bit of self-expression and add excitement to your space.
It's about selecting clever combinations, though neon colours and cheetah prints are not required. You can easily combine colours and textures without stepping too far outside your comfort zone!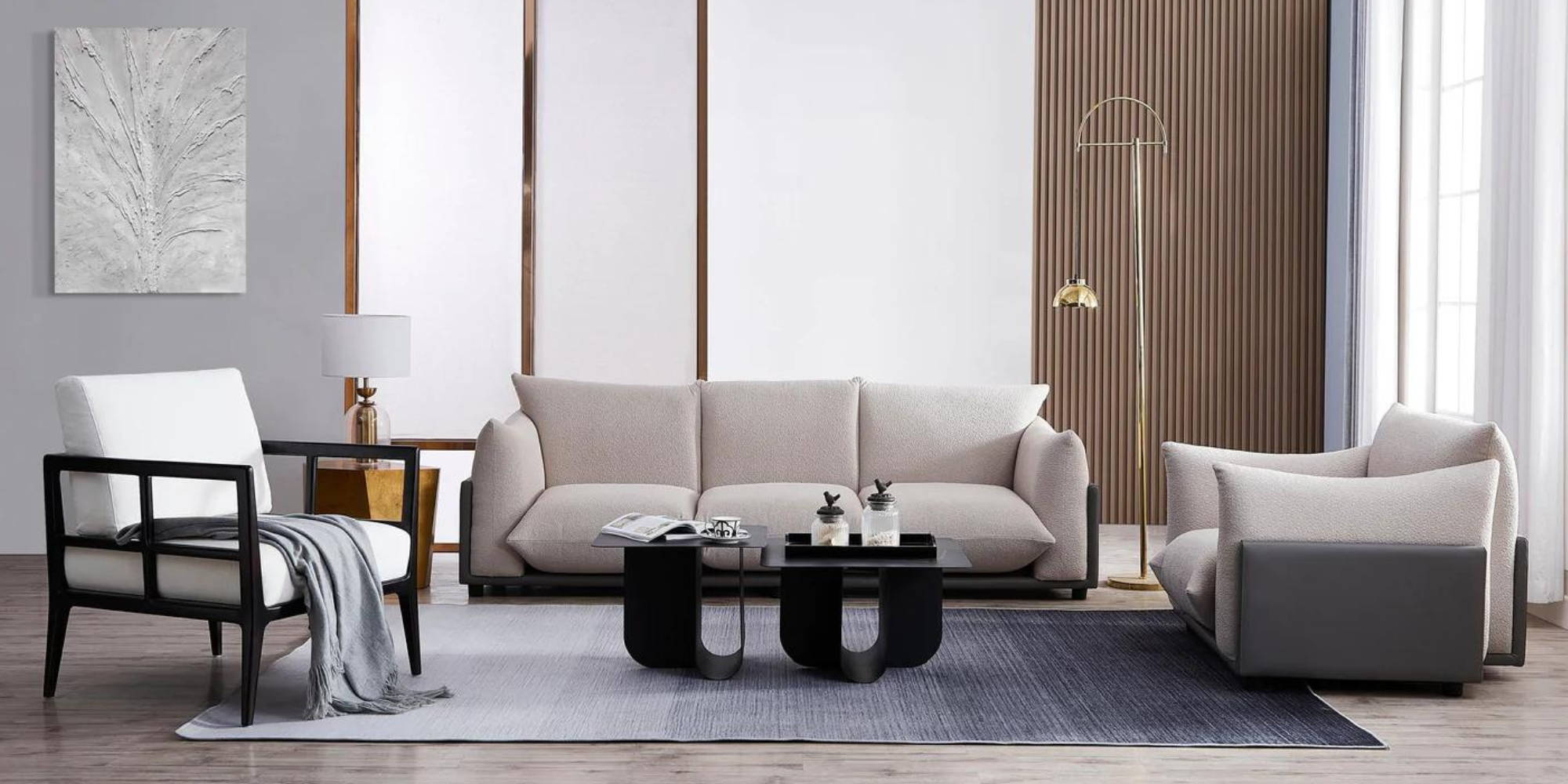 2. Work Within a Colour Range 
Choosing two shades for your space and weaving them together is a great way to mix and match lounge furniture and an even better example of how you can stick to low-key shades while switching up appearances. You can bring your home to a new level simply by working with a coordinated range.
For example, choosing a modular sofa allows you to combine various seating arrangements in the same colour and texture. In contrast, a corner chair in a lighter or darker shade of your chosen colour range will undoubtedly stand out.  
3. Go Vintage 
When in doubt, play with vintage hues. Knowing how to match sofas and chairs is a fun skill to acquire, but please keep in mind it's not required. If you're having trouble finding sofas and chairs that fit your space and personality but mesh well together, it's time to take the vintage route.
Chalky vintage colours offer a spot-on, unapologetic style. If it's your goal to switch things up, but you have zero interest in a seating mix that's almost self-consciously diverse, coral, sage, and buttermilk can steal the show without affecting the harmony of your furniture.
 4. Go for Balance 
Some clients want their mix-and-match design to look like it's been purposely mixed and matched, while others search for balance. If you love symmetry, consider a tailored approach to creating an eclectic yet uniform design for your space.  
Your seating arrangement can give off a sense of harmony without being pieces from the same furniture line. If you've chosen an oversized, plush, cream-coloured couch, consider a smaller yet still plush armchair in a darker colour. Then, drape a cream blanket or throw pillow onto the chair, pulling the colours together with minimal effort.  
The Key to Mixing and Matching Furniture 
The key to mixing and matching your chairs and sofas is to ensure that you don't have too much of one colour or pattern in one space. Allow your furniture pieces to play off one another.
If you choose a charcoal grey couch, look for chairs of a different colour that include a splash of charcoal somewhere within the pattern. Choose pieces that have a way of coming together, even if it's not direct, and always consider the colours, patterns, and textures of the room where you intend to place your new furnishings.  
Make Mix and Match Simple with Bubuland Home 
At Bubuland Home, we simplify the mixing and matching process of all our collections, sofas and chairs included. If you want to create a design for your space that's all your own, contact us today to schedule a viewing appointment!
With a wide range of styles catered for and even the ability to order custom made furniture, you will find what you are looking for in our extensive online range without the need to battle the crowds at busy shopping centres.