Do you love to entertain? Planning the perfect dinner party involves more than just a delicious menu and great company. Your dining table plays a central role in creating a welcoming and stylish atmosphere for your guests. Whether you prefer intimate gatherings or grand celebrations, having the right dining table can make all the difference. In this blog, we present four stunning dining tables that are perfect for your hosting needs. 
Get ready to take your hosting skills to the next level with our handpicked selection of four stunning dining tables. From elegant round designs to sustainable oval options, and from formal rectangular masterpieces to rustic farmhouse charm, these tables are guaranteed to leave your guests in awe.
1. Buxton Sintered Stone & Brass Dining Table (Round)
Immerse your guests in a world of refined luxury with the Buxton Sintered Stone & Brass Dining Table. Its sleek round shape invites intimate conversations and its exquisite blend of sintered stone and brass exudes elegance. Elevate your dining experience and create an ambiance that captivates your guests' senses.
This round table is a classic choice for hosting.
The
Buxton Sintered Stone & Brass Dining Table
combines the elegance of sintered stone with the timeless allure of brass. Its sleek design and luxurious materials create a sophisticated centerpiece that will impress your guests. The round shape encourages conversation and creates an intimate dining experience, making it ideal for cosy gatherings.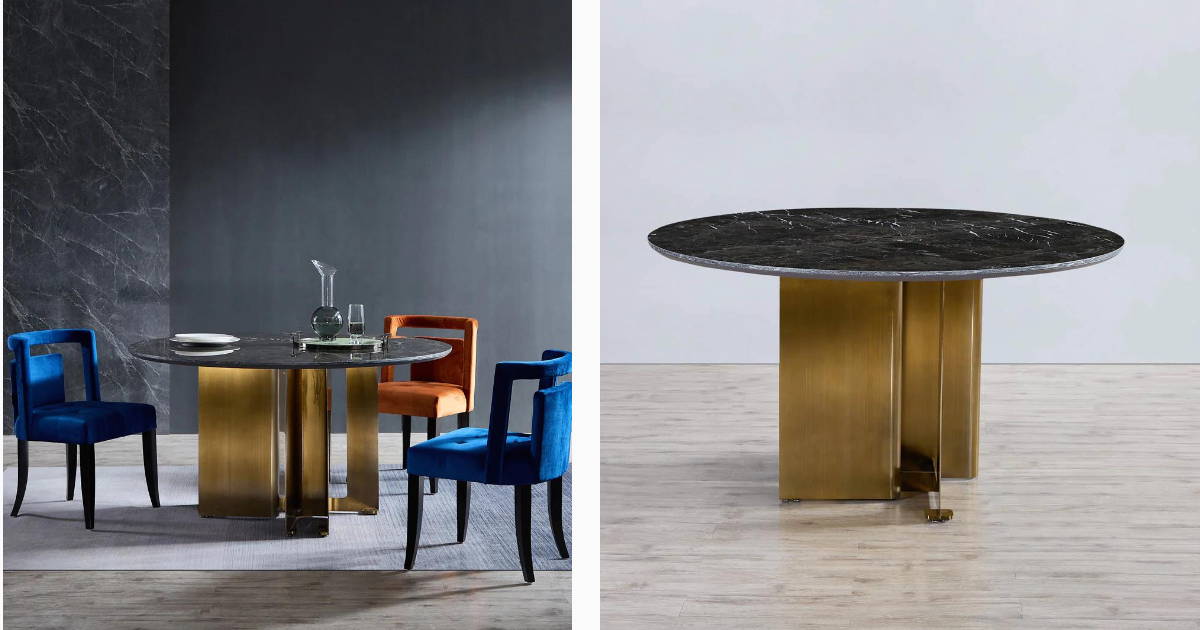 2. Wave Hardwood Oval Dining Table
Embrace sustainability without compromising on style with the
Wave Hardwood Oval Dining Table
. Crafted from responsibly sourced wood, this table showcases the beauty of nature in its organic form. Its unique oval shape encourages seamless interaction and sets the stage for memorable conversations and shared laughter.  
If you're looking for a unique and environmentally conscious option, the Wave Hardwood Oval Dining Table is perfect for you. Crafted from sustainably sourced wood, this table showcases the beauty of natural materials while providing ample space for your guests. The oval shape adds a touch of elegance and allows for easy conversation and interaction during meals.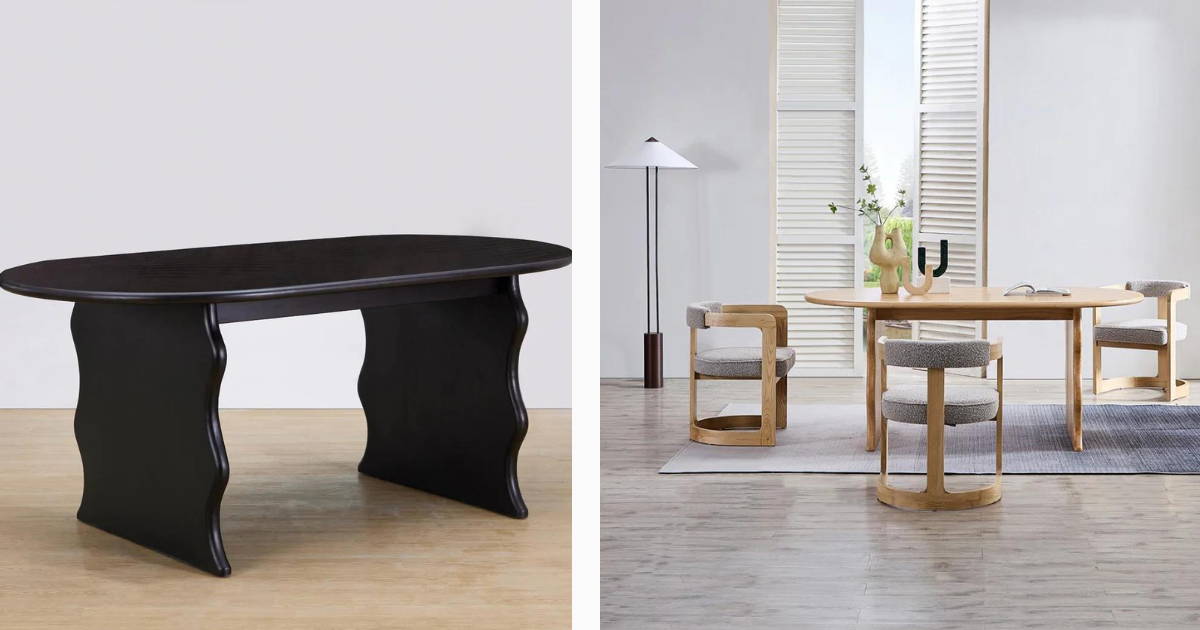 3. Pierre Sintered Stone & Brass Dining Table (Rectangle)
Unleash the grandeur of formal dining with the
Pierre Sintered Stone & Brass Dining Table
. Its rectangular silhouette commands attention and its stunning combination of sintered stone and brass epitomizes opulence. Wow your guests with a table that embodies sophistication and sets the tone for exquisite celebrations.
For those who prefer a more formal and structured setting, this is an excellent choice. With its rectangular shape and stunning combination of sintered stone and brass, this table exudes elegance and sophistication. Its generous size accommodates larger gatherings, making it perfect for hosting extravagant dinner parties or celebrations.
4. Farmhouse Trestle Table (Wooden Rectangle)
For a charming and welcoming atmosphere that exudes rustic elegance, the
Farmhouse Trestle Table
is a perfect choice. Crafted from sturdy wood, this rectangular table showcases the allure of natural textures and grains. Its timeless design and trestle base evoke a sense of warmth and create a cozy setting where stories and laughter flow freely.  
If you're a fan of rustic charm and a cozy, welcoming ambiance, the Farmhouse Trestle Table is the ideal option. Crafted from sturdy wood, this rectangular table showcases the beauty of natural grains and textures. Its trestle base adds character and stability, making it a perfect choice for gatherings that emphasize comfort and a relaxed atmosphere.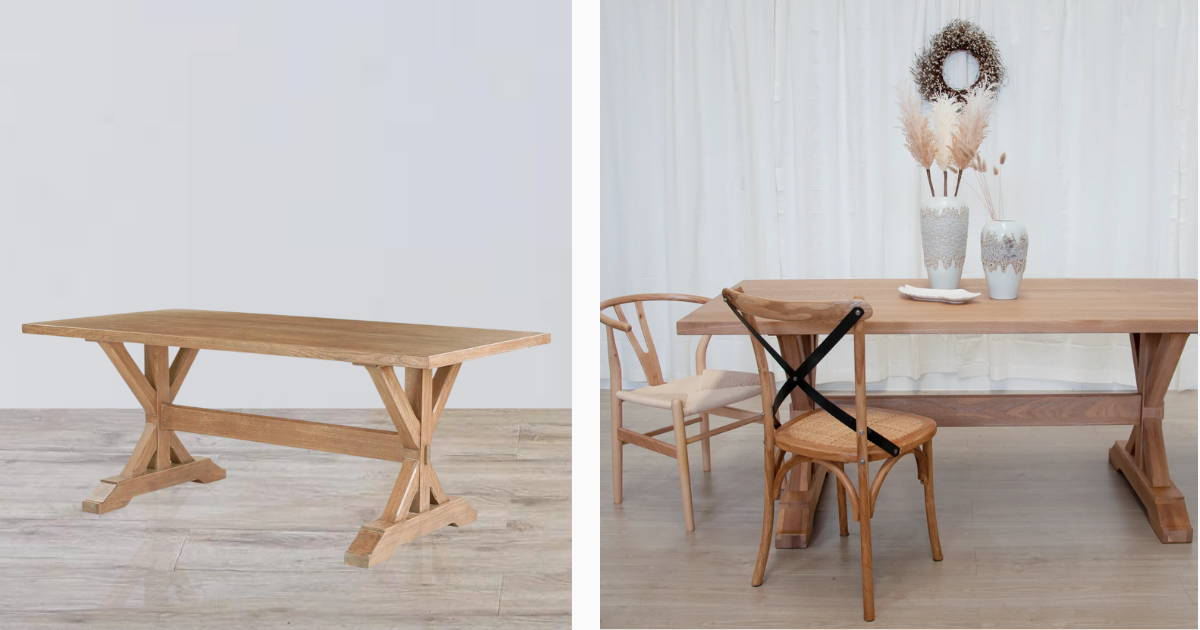 Complete Your Dining Experience with Comfortable Dining Chairs
When it comes to hosting memorable gatherings, a
comfortable dining chair
is just as important as a stunning dining table. Elevate your dining experience to new heights by carefully selecting the perfect chairs that complement your chosen table.  
Remember, the key is to strike a balance between style and comfort. The perfect dining chair not only complements your chosen dining table but also ensures that your guests can relax and enjoy their meals in utmost comfort. Pay attention to factors such as cushioning, back support, and seat height to guarantee a comfortable dining experience for everyone. With these extraordinary dining tables, your hosting prowess will reach new heights.
Prepare to create unforgettable moments and leave a lasting impression on your guests. Each table is meticulously crafted to transform your dining space into a captivating haven where style meets functionality.
At Bubuland Home, we understand that hosting is an art form, and our curated collection of dining tables reflects that. Explore our range today and discover the perfect table that aligns with your hosting aspirations. Elevate your gatherings and make memories that will be cherished for a lifetime.  
Shop with Bubuland Home 
When shopping for furniture, there is no right or wrong way. You have to do what works for you and if that means shopping online, in-store, or both, then do that!
Bubuland Home offers our clients two ways to shop. Our online collections are extensive, and we encourage you to
schedule a viewing appointment
to come and test whatever catches your eye on our website. We understand that most people prefer to shop a specific way, and we're thrilled to be able to offer the best experience possible to each of our customers.
Contact us
today for more information!  
With a wide range of styles catered for and even the ability to order custom made furniture, you will find what you are looking for in our extensive online range without the need to battle the crowds at busy shopping centres.